Spring must officially be here. We've been busy, and folks are anxious to get out on their bikes. A couple of recent builds stand out, and we've got some exciting events on the calendar
First up is a red and black steel Club Racer. The client wanted a classic steel ride, and the ability to run larger tires. The interest in running larger tires has increased a lot lately. The growth in dirt road riding seems to be driving demand, but also the realization that a bigger tire not only increases comfort, but the larger contact patch actually leads to lower rolling resistance (I know, it's counter intuitive, but look it up).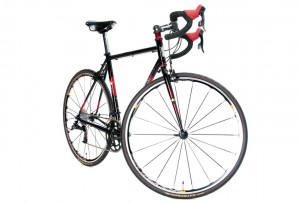 We were given a bit of creative license on this one, as long as we made it black with red accents.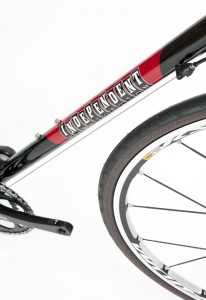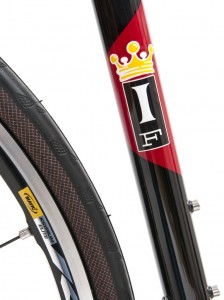 We get to do lots of exotic builds with top of the line parts, but there is just something satisfying about doing a versatile steel machine with solid components. SRAM's Rival group is great value for money, and their WiFLi system allows you to run up to a 32 tooth cog, which when combined with a compact front crank gets you pretty close to a 1:1 gear ratio… perfect for long and steep gravel climbs.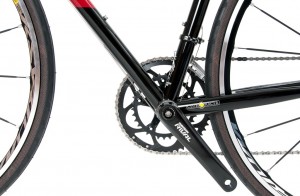 A classic Brooks B17 provides the perfect perch to grind out the miles.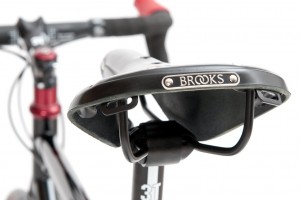 Another recent build is a bit more challenging to describe since it falls into the "adventure by bike" category. The client is an intrepid world traveler, often finding herself in less developed parts of the globe, so she wanted something extremely robust and very discreet in terms of branding and aesthetic.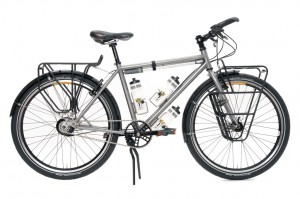 If there was a HUMVEE of bicycles, this is it. Rohloff 14 speed internal hub for a virtually maintenance free drivetrain, heavy duty racks for loaded panniers, three bottle mounts, ergonomic grips, pedals and saddle for all day, day-after-day, comfort. The saddle even incorporates vents to provide air in strategic places.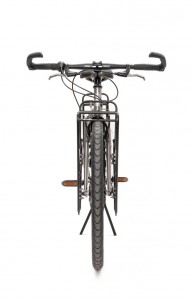 Look closely and you'll notice that there is no paint on this frame-set. The client asked for naked steel, which is a real challenge because you can't simply spray clear coat over bare steel and expect it to hold up. Our normal paint process is a minimum of three stages; 1) a primer that chemically etches into the bare metal, 2) a base coat that carries the color, and 3) a top coat of clear to protect and shine.
In order to have the bare steel show through, we had to find a clear epoxy primer that would chemically bond with the base metal, and then spray standard clear coat on top of that.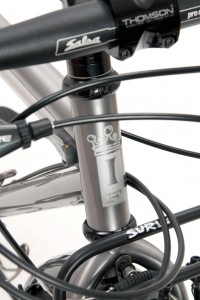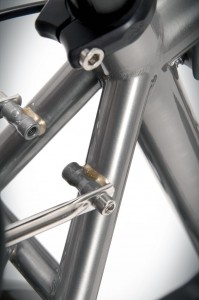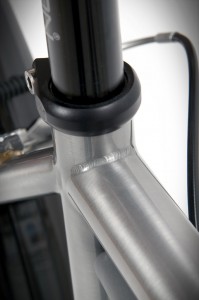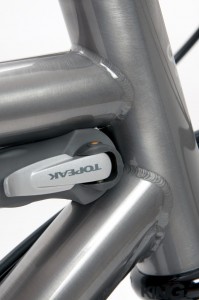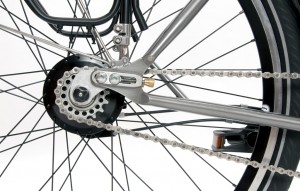 A White Industries crank transfers power to the Rohloff hub, mated to Velocity rims built by
Cycle Monkey
.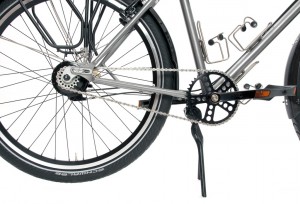 A bulletproof Phil Wood hub handles the duty up front.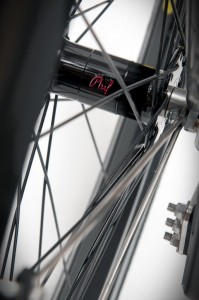 The Selle Italia Respiro saddle features a ram air intake under the nose which vents through the center of the saddle, keeping everything cool. The air suspension bladders look like something you'd find in a high tech running shoe.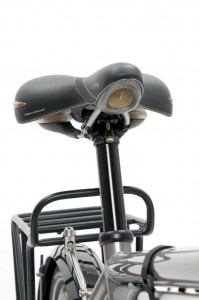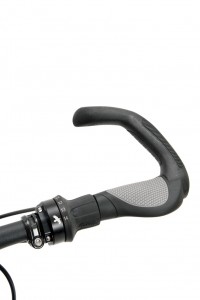 Ergon grips and bar ends provide lots of flexibility for hand positions over varied terrain and long days in the saddle.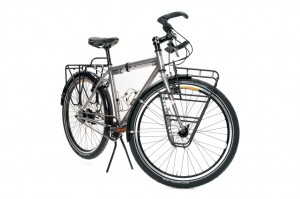 I'm sure that this bike will see it's owner through many miles of epic adventure.
If you are up for an epic adventure of your own, or at least a mini epic, mark June 17th in your calendar to join us for the inaugural edition of
RAID Rockingham
. Put on by Loco Sports, RAID Rockingham is a challenging ride that begins and ends at our HQ and takes you through some of our most scenic paved and packed gravel local roads. At just under 50 miles, it is challenging enough, but will leave you with enough in the tank, or at least enough taken out of it, to enjoy
Smuttynose
beer, tasty food, and lots of great bike swag at the after party.
Lastly, Rapha's new mobile cycle club,
Hennie
, will be joining us for a visit on June 21st. Come on out and grab an espresso and check out their latest cycling apparel and gear.
Cheers,
G