Reduce, reuse, recycle… the 3 R's of being a good citizen. So when my wife wanted a new bike for gravel roads and inclement weather, I tried to do the right thing and reuse an existing frame to build her a cross bike. Beautiful bike, it just didn't fit quite right. Cue the quips about the cobbler's kids having no shoes…
So after a semi-fun biking trip to Acadia, semi because my bike fit perfectly and hers didn't, it was obvious what I needed to do… what I should have done in the first place… build a frame designed specifically for her.
Note to all you guys out there who haven't yet figured out the key to a happy marriage… it's all about her, and that means that you get the hand-me-downs, and she gets the good stuff… even if she isn't going to really "use" it, because that isn't the point.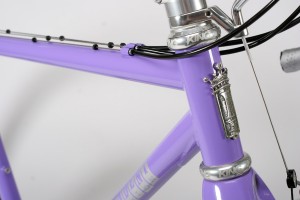 Lucky for me I got a second chance, and she chose this purple, not realizing the similarity to the classic Fat City color.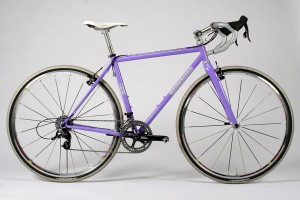 Top mounted cable routing… just in case she gets the urge to race it…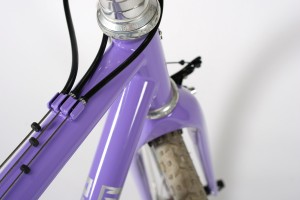 A lot of action on the seat tube of a properly designed cross bike; the brazed on noodle provides for efficient brake cable routing…
front derailleur barrel adjustor, and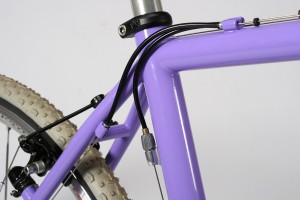 a pulley provides for clean derailleur cable routing and smooth shifts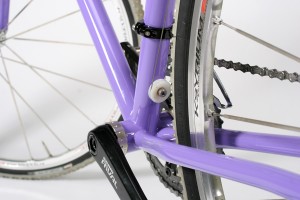 SRAM Rival cross kit with 42/38T front rings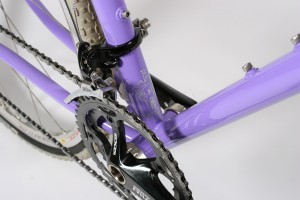 Silver King head-set along with a silver Thomson steam and seat post, silver Fizik bar tape, and silver Mavic Ksyrium Elite wheels all match the silver decals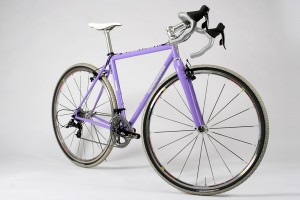 So I'm out of the dog house, and what of that pearl white Planet Cross? Well it turns out that it will fit Leah's good friend Jen, who recently broke her cross bike during a race. It's all good… karma.