This week's neighbor is
Panzanella's
, a local (and very delicious) pizzeria. Almost directly across the street from our new location here in Newmarket, Panzanella's is the perfect spot to grab a quick afternoon slice (or 2. You'll definitely want another). Feel free to get creative; they'll add any topping(s) you want to a single slice.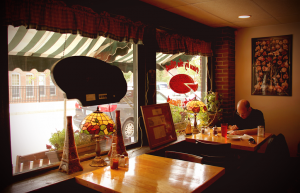 Neighbor: Panzanella's Italian Pizzeria and Restaurant – 72 Main Street
Type of business: Italian-American pizzeria
Years running: 10
Owner: Jared Ernest Woodman Sr.
How did you get into this line of work? I began working as a dishwasher at another pizzeria when I was 12 years old. Over the course of 8 years, I went from the bottom of the barrel to the top of the barrel. I knew I could do it myself, so I did!
Something special your business does (weekly/monthly events, community service, etc.):
We sponsor local youth sports teams and donate to many local organizations, on top of providing top notch service to our many loyal customers.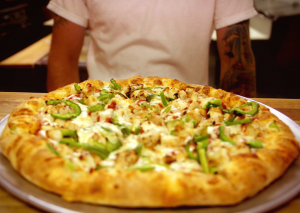 What's your favorite thing about Newmarket? I'd have to say the restoration of the Newmarket Mills. I like what it's doing for business, and it's doing wonders for the downtown landscape.
If you could add any type of business to Main Street, what would you choose? Easy. I'd choose a single screen movie theater that plays classic movies like My Cousin Vinny.
You find a genie's lamp and he grants you 1 wish. What do you wish for? I would wish for my son to make it into the NBA.
Do you own a bicycle? If so, what kind? Yes, I do own a bicycle. It's a Schwinn. My wife and I love to go for rides together around our home town.