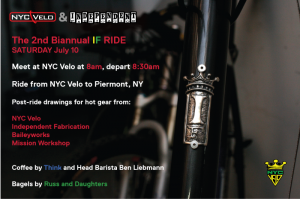 Just a friendly reminder to all of you IF fans out there: The Indy Fab shop ride is happening on this Saturday, July 10th.
If you currently own an IF, are thinking of buying one, or just want to know what the deal is with custom bikes, come by the shop to meet and ride with some of us IF'ers from Somerville, MA and the NYC Velo crew on Saturday. Russ and Daughters bagels and Think Coffee will be served at 8am, and the ride heads off to Piermont at 8:30am.
Show off your bike (regardless of provenence) on a comfortable ride to Piermont, NY with like-minded individuals. Afterward the IF crew will be on hand to answer questions and show off some amazing demo bikes. Additionally, we'll raffle some some swag, including a Level 2 paint upgrade on any new IF, a custom NYC Velo Whalemouth bag fromBaileyworks, and a custom NYC Velo Rambler backpack from Mission Workshop.
Don't miss this opportunity to get to meet some of the great people from NYC Velo and the Indy Fab crew!