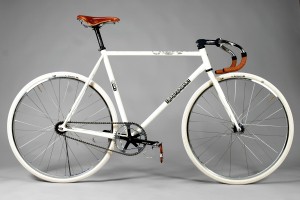 Grass track racing was popular in England in the 30's, 40's and 50's. We're not sure exactly how popular, but there are photos from the period, and grass track bikes were featured in some of the old British lightweight catalogs. Anyhow, inspired by an old photo, and motivated to do something a little different, we decided to make a grass track racer to bring to Interbike.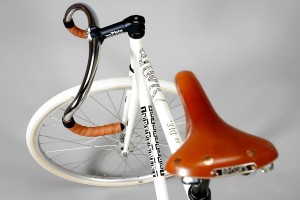 Given the vintage vibe of the bike, and our rebellious nature in general, we co-opted the first political cartoon in American history; the "Join, or Die" segmented snake. Largely attributed to Benjamin Franklin, no one really knows for sure, since back then such talk was treason and cause for the Crown to dangle you from a tree.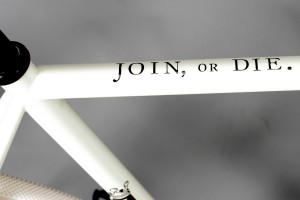 Kind of ironic then that we put a rebellious statement on an homage to old school British grass track racing, eh? Instead of each snake segment representing one of the colonies (get it; join, or die?), we created a segment for each of us, and painted in our initials. No doubt a bit cultish, but hey, we kind of dig groups like the Marines and Jesuits.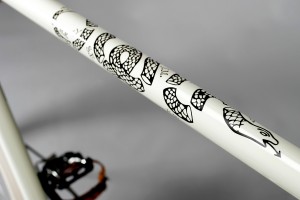 Like the Dude's rug, some fly white Dugast file treads fresh from Europe tie the bike together. Really, we had some Challenges on it originally, and great tire and all, but the Duggies just complete the bike.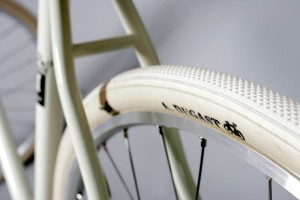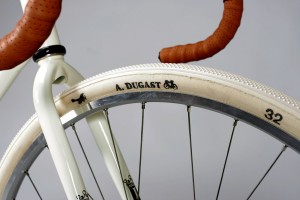 It's all about the small details, and some trick rubber-monkey skull-with IF crowns-bar end- thingies do nicely to protect the down tube from an errant handle bar swing.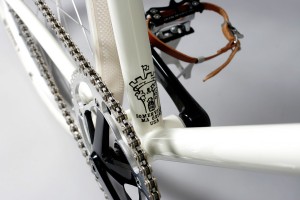 Black Sugino 75 cranks, courtesy of Jason at Superb Bicycles in Boston. Not only is he the helpful man at Boston's hippest bike shop, he spins a superb mix at a party.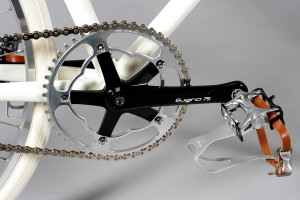 A beefy 49 tooth chainring from 3RRR, machined right here in Massachusetts, combine with a Wippermann chain to transfer the power.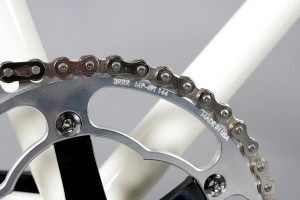 Beautiful polished 32H Phil Wood track hubs (thanks Peter!), 130 spacing in the back for tire clearance, laced 3X to silver Mavic Reflex rims.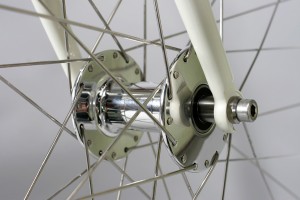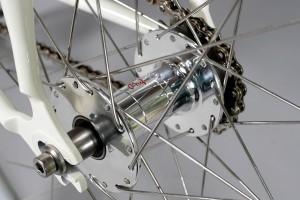 While we built it to bring to Interbike, it's real purpose, just like everyone at Interbike, was to go to a party. We co-sponsored a party at the Artisan Hotel, a super funky, way off the strip art hotel with the good folks from Rapha, Knog, Embrocation Cycling Journal, and Fi'zi:k saddles. We each had to come up with a bar drink to represent our brand, so sticking with the retro theme, we served up Ward 8's, a tasty and refreshing beverage comprised of rye whiskey, lemon juice, orange juice and grenadine. We would like to give special thanks to our local mixed drink expert John Gertsen of Boston's infamous speakeasy Drink for the thoughtful suggestion and ingredients for this drink. The Ward 8's name is derived from it's power to sway votes in the early 19th century, and prevent hangovers. Promise.

Doesn't she look stunning, there at the bar, resplendent in her Vanilla Shake paint and Knog lights? You know you want to hit on her, or at least touch her Knogs and Duggies. Go ahead, she doesn't mind…