A fresh shipment of our new and improved disc brake tabs has arrived. After the forks have been welded, aligned and finished they are taken back over to welding to have the disc tabs welded on.

The jig we use is simple yet effective. The front brake is where we get 90% of our braking power. Thus the Disc Tab's lengthy top portion… this dissipates the stress caused by the front brake over a larger surface area, making it bomb proof.

The machining on the new tabs is exquisite! Big thanks to Mark and his crew at Paragon Machine Works for a job well done.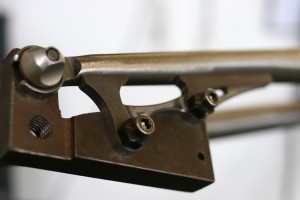 Here are a couple of partly TIG welded glimpses…

The welds are wicked hot in this picture (temperature-wise as well).

Below is the tab welded to one of our rigid mountain forks. It now goes back to finishing to have the zip tie mount brazed on….

If you look closely at the above picture (you'll have to click on the image) you will notice a tiny hole that is drilled in the front of the fork on the disc tab side, just above the dropout. This hole allows the heated up air inside the fork to escape during the welding process. This hole will get filled with brass and filed down in finishing.