Part three in our series of bikes and friends, and this one is all about the planet. No healthy planet, no wild places to ride… we all lose. My good friend and former colleague, Terry Kellogg, is the Executive Director of One Percent for the Planet. Founded by Patagonia founder, Yvon Chouinard, One Percent for the Planet is a simple concept; members give 1% of their gross revenue to the organization, and they see that it gets to grass roots environmental organizations that are making a difference right now.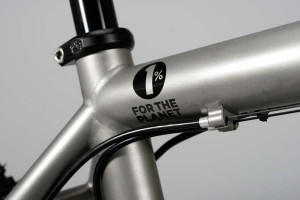 Terry moved the family up to Vermont, where he can enjoy sweet single-track on his lunch break. Now being the head of a non-profit is noble and all, but it doesn't exactly make you rich. Well, one day TK and I were chatting, and he mentioned that he'd love to get a new 29'er, but that he had a pretty tight budget.
We'd just gotten this beauty back from a customer that wanted to run a Fox fork, and Fox had changed their fork crown without us being on top of the change, so the fork would not clear the down tube. Our bad (it's tough being a small builder and keeping up with all of the changes to components), so we updated our gauges to reflect the new Fox design, and built the customer a new frame.
So in the lemons to lemonade mode, I told Terry that if he wanted to run a RockShox Reba, I could cut him the deal of the century.
IF sterling silver headbadge, Chris King sotto voce head set. What IF, we all rode bikes a bit more, and drove a bit less?

A combination of bomber Shimano XT and XTR components, along with slider drop-outs should TK ever get religion and convert her to a single-speed.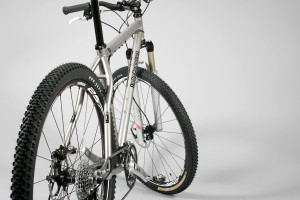 Nice curves! Ride it well TK and thanks for making up for the rest of us eco-sinners.