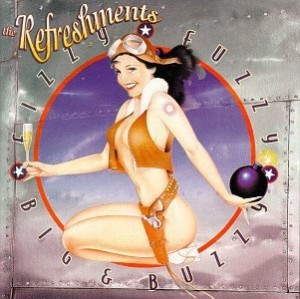 It's great when you can dance at the intersection of many good things. You all know that we get to play with bikes here at IF, and nothing goes better with bikes than good music. One of my best friends happens to be an accomplished musician. Roger Clyne was the front man for the successful late 90's band the Refreshments, and has seen continued success as an independent music pioneer for over a decade, producing records and touring as Roger Clyne and the Peacemakers. Roger walked away from the major label side of the music business to do things on his own terms, and he inspired me to do the same by leaving my executive career to join Indy Fab.
As repayment for the encouragement, I wanted to make him a bike that reflected his personality and lifestyle. Roger lives in Arizona and often finds himself south of the Mexican border… sailing, fishing, writing music and frequenting the local cantina by the sea in Cholla Bay. The roads are rough, but the living is easy.
The perfect bike for Cholla Bay, or life in and out of a touring bus? A ti Planet Cross, complete with a side mounted, water-proof guitar case and a paint scheme inspired by his first album.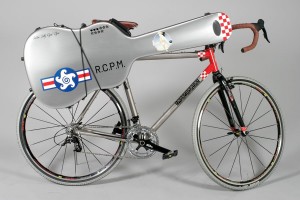 The man himself was in town last week to play a Boston Harbor booze cruise gig, so we took the opportunity to shoot a few photos. No stranger to the camera, he could hardly contain himself when he saw the steed in person.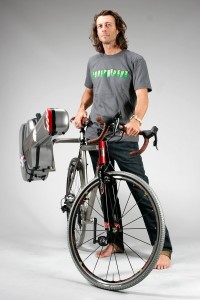 She's a full on cross racing thoroughbred, despite her primary role as a cantina cruiser and tour stop de-compression tool. Shot-peened 3-2.5 titanium, Alpha Q carbon CX-20 cross fork, SRAM Rival drivetrain, and Mavic Ksyrium Elite wheels, but a few aesthetic nods to go along with the WWII airplane theme inspired by the Refreshment's first album cover; brown leather Brooks bar tape and B-17 saddle (hey, the B-17 was a WWII bomber, coincidence?).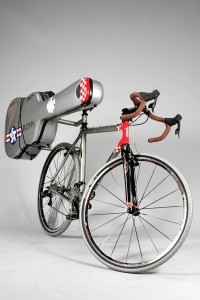 The guitar case features a matching paint scheme, complete with girly nose-art, "kill" symbols for each of Roger's Refreshments and Peacemakers albums, and a USAF logo that replaces the star with the Peacemakers glyph symbol.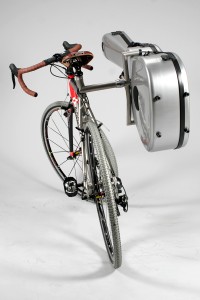 Tyler dug deep into his special ops bag of tricks to fabricate this custom titanium fixture which mounts the guitar case securely to the bike. He even incorporated an S&S coupler to quickly disconnect the fixture.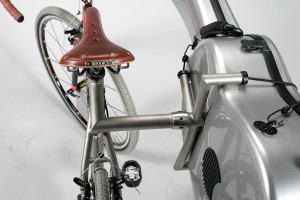 The sterling silver headbadge looks resplendent against the Corsa red head tube paint . Phil and Paul keep using that word resplendent in their coverage of the Tour de France, so I thought that I'd slide it in here.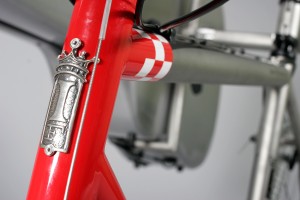 Nothing like being the captain of your own ship.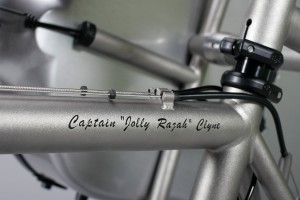 Ride it well, amigo…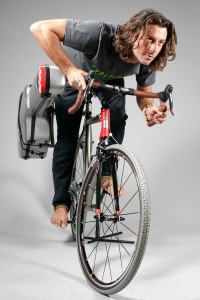 Don't forget to support your favorite indie artists. Music makes the wheels go around.