I had a thought a few weeks ago on my commute home. I knew I didn't have any beer at home and it was a long day of welding so I stopped by my local
packie
to get a some. As usual, I had a bunch of stuff in my bag and had to maneuver an unwieldy six pack into my bag.
The shape of the cardboard six pack carrier made for an uncomfortable situation for the rest of my ride and I thought: "if I had some sort of padded insert in my bag that lined up all of the beers in a single file things would be a little bit more comfortable."
Enter my pals over at BaileyWorks….
I had just completed a photo shoot of some prototype bags they were working on and in exchange they said I could have the bag of my choice.
Being the pain in the ass that I am I came up with a bag design that matched my "steppin' out bike", but I didn't stop there….
I requested a large Baileyworks SuperPro with six pockets sewn into the back panel with a thin foam pad hidden behind it. Each of these pockets needed to fit a bottle of beer.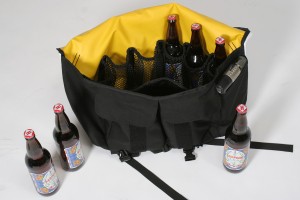 I called up our buddy Seth over at Harpoon and asked him if he would like to stuff my bag with beer and he obliged. He brought over a case of regular sized ale bottles as well as another case of big 22oz bottles, which, to my surprise, also fit in the bag, due to the elastic cinching sewn into the top of the pockets.
I stuffed the bag full of all of my goods, loaded it up with the bottles, put it on and was amazed at the high level of comfort I experienced. I think we have a winner! Call it what you will… the beer-do-leer, the booze-bag, the alco-hauler, that is for BaileyWorks to decide. Regardless this thing is the shit!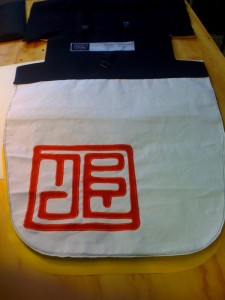 Toni and Jenn over at BaileyWorks were also kind enough to send me some process shots of the bag while it was under construction.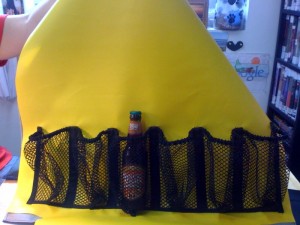 Thanks for making my dream a reality.
Lookin' good and feelin' good, that's the way it should be. XOXO, Tyler.